Are you ready to celebrate your dog's special Gotcha day? Pamper her all day with everything she loves? Love on him, and do all his favorite things, maybe a special bone or toy?
What is a dog's Gotcha Day?
Gotcha day is the day to celebrate your dog's adoption day, the day you brought him/her home. We usually don't know a rescue dog's actual birthday, so celebrating his Gotcha day is the next best thing.
Gotcha day is a day to remember when you started your life together, a day to celebrate how far he's come from that very first day.
Since most rescue dogs don't have a known birthday, a shelter will either guess (if it's a young puppy) or you are on your own to create one… that's where Gotcha day comes in. It's your rescue dog's birthday in essence.
Gotcha Day Ideas
Let's figure out how to celebrate your dog's gotcha day that will make him so happy he will do zoomies!
Take notes on what makes your dog happy… because this is his/her day. When do you notice him at his happiest? Is it when you give him a new bone, go for a walk, swim on the beach?
Use these moments and intertwine them into our fun ideas to make your dog's Gotcha Day special. Every dog is unique and special in their own way, so make sure this days is as unique as they are.
1. Throw a Gotcha Day Party
A Gotcha Day party can be as simple or elaborate as you'd (or your dog) would like. Invite friends and/or family over. If your dog likes to play with other dogs, invite other friendly dogs.
Don't overdo it if your dog prefers quiet time. Watch your dogs body language for any signs of stress. Remember, this day is about him being happy.
You can use a combination of some of the ideas listed below. Bake a cake, play some doggy puzzle games, and play with his favorite toys.
2. Take a trip to the pet store
What dog doesn't enjoy going to your local pet store and sniffing all the smells, picking out his own bone or toy? Put on a birthday or Gotcha Day bandana so everyone can give him best wishes.
3. Take your dog to his favorite place
Be creative with this one, where does your dog love to go? Is it to the beach, grandma's house, or maybe for a hike in the mountains?
4. Bake her a Gotcha Day cake or treat
There are a million Gotcha Day cake recipes on Pinterest. You can find them on my Pinterest Gotcha Day idea board here.
Or if you aren't the baking type, you can order The Lazy Dog Cookie Co. Happy Birthday Pup-PIE Dog Treat, in pink or blue.
This Pooch Peanut Butter Cake Mix & Frosting Dog Treat Mix is a happy in between option.Just add water, eggs and oil.
5. Donate to the shelter/rescue in her honor
Remember the shelter or rescue that you adopted your dog from and donate money or other items they may need. This may not make your dog do zoomies, but it will make you happy, which makes her happy too!
6. Host a doggy playdate
If your dog has some special doggy friends he enjoys playing with, invite them over to celebrate. Or meet up at your local dog park to have a play date.
7. Lavish him with new toys, treats, and bones
Give your dog presents, a box full of new toys, treats or bones will for sure make him do the zoomies!
Here are 41 Indestructible Durable Dog Toys for Heavy, Aggressive, Destructive Chewers
8. Set up a photoshoot
You will want to remember this day forever. We all can agree that dogs aren't with us long enough. Take lots of photos on every Gotcha Day and create a memory book.
9. Spend one-on-one time alone
Some dogs prefer quiet time, so sit together, uninterrupted. Tell her the story of how you found each other, choose some of the other quiet celebration ideas on this list.
10. Got to the dog park
Going to the dog park can be so much fun for some dogs. But dog parks can be sketchy. Only go if you are comfortable with the location and your dog is comfortable around other dogs.
11. Have a pool, beach, lake party
If your dog loves to swim, this is the place to celebrate her Gotha Day. You can invite friends with dogs to make it a party, or just go alone. Bring her favorite water toy and of course your camera to catch all the fun.
12. Make a special Gotcha Day dinner
No Gotcha Day would be complete without a special dinner. Be careful not to feed your dog too much "special" and make her belly upset. A great idea would be to add their favorite fresh veggies or bone broth.
13. Order a Chewy Birthday Box
Did you know Chewy has special gift sets for your dog's special day? In fact, they have an entire "birthday shop" full of awesome gifts for your dog's special day.
14. Create a scavenger hunt or obstacle course
Our dogs love to play games. You can make up a scavenger hunt using empty boxes, bowls, or anything laying around your house. This is a fun one to get the kids involved with too… trust me they are more creative than we can ever be as adults.
Recommended just for you: 11 Fun Enrichment Games to Play with Your Dog Inside.
15. Let your dog lick out of the peanut butter jar
First, make sure it's' all-natural peanut butter without xylitol. But save those empty peanut butter jars for the special occasion. My dogs love to lick the coconut oil jars too. Yummy special Gotcha Day treat!
16. Make a special birthday Kong
Kong's are the classic way to keep a dog busy. My dogs love them… so why not fill one with special Gotcha Day treats, but a chew stick in it to look like a candle, freeze it and serve.
Here are some great Gotcha Day Kong ideas on Pinterest.
17. Give your dog a spa day
Give your dog a relaxing massage. If you don't know how to properly massage your dog, here is a great article about massage for dogs to get you started. If your dog enjoys grooming, then go all out and take him to the groomer.
18. Sing happy Gotcha Day
What birthday/Gotcha Day would be complete without a song? So go ahead and bolt it out… maybe your dog will join you! And make sure to tell him/her we said happy Gotcha Day too!
Gotcha Day Dog Gifts
If you want to lavish your dog with Gotcha Day Gifts, then we have the list for you! Filled with fun, unique Gotcha Day gift ideas just for you and your dog.
Gotcha Day Treats
Gotcha Day Toys
Gotcha Day Wearables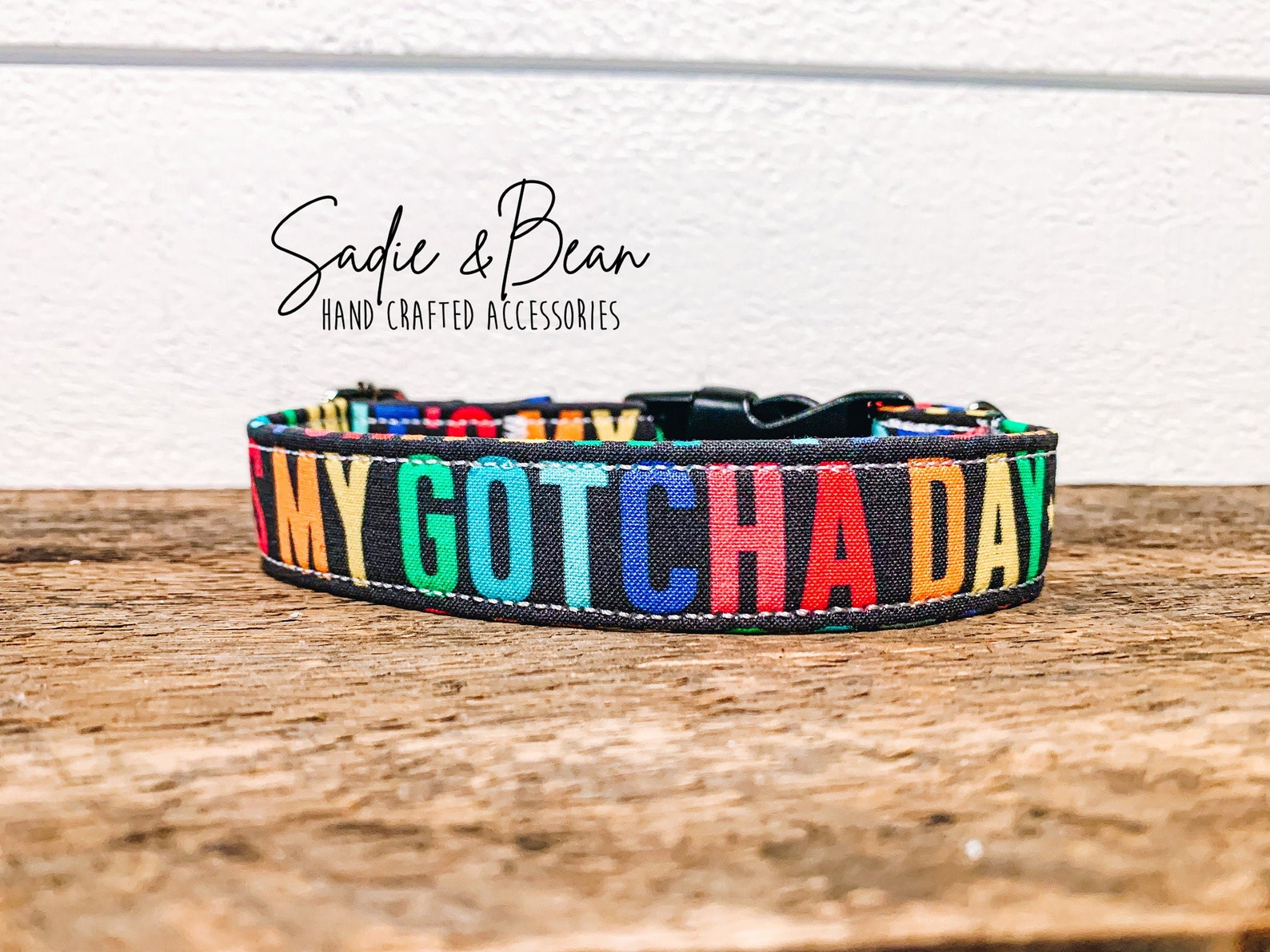 But don't limit your shopping to only "gotcha" theme gifts, I know sometimes we don't want to admit it, but your dog doesn't care if it says "birthday" or "gotcha", he will love any new toy or treat.
If your dog can tear apart just about every toy he get's his mouth on, then make sure to check out our list of 41 Indestructible Durable Dog Toys for Heavy, Aggressive, Destructive Chewers.
Gotcha day dog quotes
If you search for dog quotes, there are more than you can ever imagine. I pulled my favorite quotes that can be used for your dog's gotcha day:
"Everybody should have a shelter dog. It's good for the soul." – Paul Shaffer
"It is amazing how much love and laughter they bring into our lives and even how much closer we become with each other because of them." – John Grogan, author of Marley & Me
"The world would be a nicer place if everyone had the ability to love as unconditionally as a dog." – M.K. Clinton
"Dogs have a way of finding the people who need them and filling an emptiness we didn't ever know we had." – Thom Jones
"The greatest pleasure of a dog is that you may make a fool of yourself with him, and not only will he not scold you, but he will make a fool of himself, too." – Samuel Butler, author of Erewhon
"The gift which I am sending you is called a dog, and is, in fact, the most precious and valuable possession of mankind." – Theodorus Gaza, a Greek humanist, and translator of Aristotle
"Happiness is a warm puppy." – Charles Schulz, cartoonist of Peanuts
"I think dogs are the most amazing creatures; they give unconditional love. For me, they are the role model for being alive." – Gilda Radner, American comedian and actress
"Dogs are not our whole life, but they make our lives whole." – Roger Caras, author of A Dog Is Listening: The Way Some of Our Closest Friends View Us
Happy gotcha day dog messages or captions
Making a gotcha day card or message board is another great way to help celebrate your dog's gotcha day. Have fun with it, and get the kids involved. A homemade birthday/gotcha day card is the best!
Here are some ideas to help you write a Gotcha Day message:
[Your-Dogs-Name], Your unconditional love is everything I could wish for. Thank you for always being there for me, for the good days and the bad. Happy Gotcha Day to my best friend.
I couldn't imagine a world without you [Your-Dogs-Name]. I look forward to the time we spend together [list all your favorite things to do together, i.e., playing ball, taking walks, swimming], it makes my day watching you be so happy.
[Your-Dogs-Name], Wishing for a life full of fun adventures together. Happy Gotcha Day!
To the greatest dog in the universe. Thanks for choosing me. Happy Gotcha Day!
[Your-Dogs-Name], you are always there to make me laugh when I'm sad. I will never be lost when I am with you. Thank you for being you. Happy Gotcha Day!
We've been through so many awesome adventures together. Thanks for always being by my side. Happy Gotcha Day [Your-Dogs-Name]!
You are a blessing in my life. I couldn't even imagine life without you. I pray we have many more of these days together. Happy Gotcha Day [Your-Dogs-Name]!
It's been a journey, we've taught each other patience, unconditional love, and happiness. I hope you have the best day ever today on your Gotcha Day.
I knew from the moment our eyes met that you were meant to be mine. We are a match made in heaven. Thank you for being the best dog ever. Happy Gotcha Day!
In Conclusion
Our dogs are so special. They mean more to us than I think they could ever imagine. They are there for us through the thick and the thin.
It's important to celebrate them, whether that is their Gotcha Day, Birthday, or any other day…
Make this day all about your dog. Don't force a big party on him if he'd rather be alone. But if he is a social dog, then go all out. Gotcha day parties, treats, friends, trips to the beach… your dog deserves it all. They are with us for such a short time, make the most out of this special day… Happy Gotcha Day!
Up next for you: